Past Exhibitions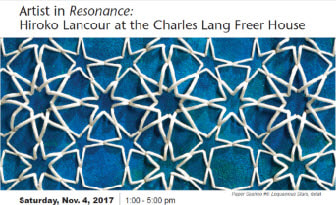 Artist in Resonance: Hiroko Lancour at the Charles Lang Freer House
Solo Show
The Freer House, 71 E. Ferry Street, Detroit, MI 48202
November 4, 2017 (one-day only)
1:00 - 5:00 pm
Artist Talk at 3:00 pm
Press Release
---
---
Integrated Patterns: Structured Abstraction

Invitational Show

Alden B. Dow Museum of Science & Art

, Midland, Michigan

April 25, 2015 - June 26, 2015

This invitational exhibition featured work by eleven artists from across the country employing extensive use of pattern, repetition, geometry and structural organization.

Hiroko's works exhibited include

Chance Operations: Enso

,

Tsunami 3-11-2011

,

Faded Memories: Tribute to People with Alzheimer's

,

Paper Sashiko No. 5 (Red), Ripples, and Paper Sashiko No. 3 (Hemp Leaves)

.
---
---
---
Freudenberg PICS (Parts Inspired Creative Solutions)

Juried Group Show

Freudenberg North America Corporation Center, Plymouth, Michigan

October 24, 2013 - November 23, 2013

Press Release

This wall installation received honorable mention. It is now part of Freudenberg North America's corporate collection.
---
---
---
---
---
---
---
---
Stone Soup

Juried Group Show

Work

•

Detrpot | Penny W. Stamps School of Art & Design, University of Michigan, Detroit, Michigan

July 8, 2011 - August 12, 2011
---