Artist Bio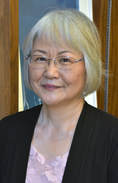 Hiroko Lancour is a Michigan-based mixed-media artist, who creates both two and three-dimensional works.
Hiroko moved to Detroit, Michigan after graduating from International Christian University in Tokyo, with a B.A. in English. Upon receiving her second B.A. in Computer Science from Wayne State University in Detroit, she began her information technology career. Although satisfied with the IT profession, by her mid-40s, Hiroko could no longer ignore her strong urge to create art. She began taking evening art classes while maintaining her full-time employment. After steadily developing her artistic foundation, she was admitted to graduate school. In 2010, Hiroko retired from Blue Cross Blue Shield of Michigan after 27 years of service, and transitioned from a systems analyst to a full-time graduate student. In 2014, she earned her Master of Fine Arts (M.F.A.) degree from Wayne State University.
Hiroko has exhibited at various shows in Michigan as well as Ontario, Canada. She is the recipient of numerous scholarships, awards, and prizes, including the Bud Bernstein Endowed Prize Fund at Wayne State University, First Place for the John F. Korachis Scholarship Award at the Detroit Artists Market, Best of Show at the National Fiber
Artist Statement

Born and raised in Japan, my original artistic sensibility was developed in the eastern world.

Having lived in the United States most of my adult life, this sensibility has become a hybrid between east and west.

My earlier education and career in information technology has added yet another layer to my artistic expressions.

Discovering underlining meanings in repetitive patterns and procedures has become one of my focal points.
I am also interested in dichotomy.

I believe that yin and yang interact, not only as opposite forces, but also as harmonizing parts of a dynamic system within a greater whole.

I often see things from both sides.

I feel as if I were an insider looking out, and an outside looking in, at the same time.

This ambivalent stance generates many questions to which I am compelled to respond artistically.